Varda
Posts: 3263
Joined: Wed Aug 17, 2005 7:01 am
Location: Middle-west
Mythopoeia
On September 19, 1931, C. S. Lewis invited J. R. R. Tolkien and Hugo Dyson to dinner at Magdalen College and after dinner they went for a walk. But not just a walk. Their talk that night was seminal, particularly for Lewis, who later cited that conversation as an important turning point in his conversion to Christianity. Their topic that night was the nature of myth. Lewis thought at the time that 'myth' was synonymous with 'lie' although, since he enjoyed mythology, he added that a myth was a lie "breathed through silver". Tolkien contended that myths do not necessarily have to be false, that they still can function in the way myths do, even if they are true.
During the next several days, Tolkien composed the first version of the poem "Mythopoeia", the title of which is a coined word from the Greek meaning 'myth-making'. It is dedicated "To one who said that myths were lies and therefore worthless, even though 'breathed through silver'" and it is subtitled "Philomythus [myth-lover] to Misomythus [myth-hater]". As far as I know, the only place where the poem is published legally is in the third edition of a short collection entitled
Tree and Leaf
(Harper Collins, 1988). (It may also be found on the 'net—enough said!)
In the preface to this collection, Christopher Tolkien wrote that "Mythopoeia" is so closely related to part of the essay "On Fairy-Stories" that his father quoted fourteen lines from the poem in the essay. Both texts defend myth-making as not lying, obviously: at the time it was written, Tolkien was well immersed in the writing of his mythology and so the essay and the poem are something of a self-defense. But in the process, Tolkien reveals some deep truths about life, the world, and creativity.
Such isles they saw afar, and ones more fair,
and those that hear them yet may yet beware.
They have seen Death and ultimate defeat,
and yet they would not in despair retreat,
but oft to victory have turned the lyre
and kindled hearts with legendary fire,
illuminating Now and Dark Hath-been
with light of suns as yet by no man seen.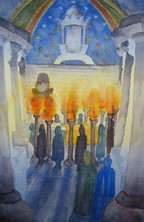 'Theoden Lying in State', used by permission of marbretherese
Please join us for a discussion of "Mythopoiea"!
Sing and be glad, all ye children of the West,
for your King shall come again,
and he shall dwell among you
all the days of your life.
Merry