The Legend of Sigurd and Gudrún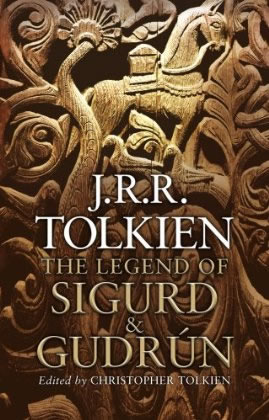 © Harper Collins
The New Lay of the Völsungs
The New Lay of Gudrún
Tolkien composed his own versions of the great lays of Northern antiquity - retelling the stories of the great hero Sigurd, the Valkyrie Brynhild and the tragic story of bitter Gudrún's revenge and the death of the Niflungs. Woven through this is Fafnir the dragon, his cursed hoard and the great ring, Andvaranaut.
It is written in vigourous eight line fornyrðislag metre (the same as most of the Elder Edda poems) where the strict alliterative rhythm and abbreviated style means every word must count.
Christopher Tolkien remarks that 'The metrical form of these Lays was very evidently a primary element in my father's purpose'. The result shows what a complete mastery Tolkien had of the form and his deep understanding of it. More than that, it is marvellous poetry evoking dark rolling, resonant phrases spoken in darkened, fire-lit halls, full of images that live in the mind long after you've read them.
The forge was flaring
the fire blazing:
a blade they brought him
with blue edges;
they flickered with flame,
as it flashed singing -
the cloven anvil
clashed asunder.