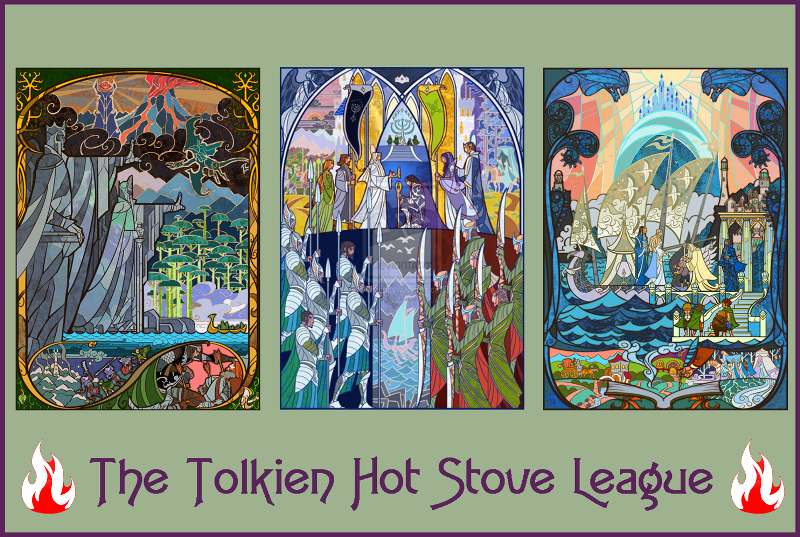 The Tolkien Hot Stove League
A Call for Tolkien Researchers and Enthusiasts aka: The Tolkien Hot Stove League
In the United States, baseball enthusiasts spend the winter months (when baseball is not able to be played) talking about their favorite teams and players. This practice began decades ago when there was only radio and no television, and certainly no internet or social media. People would gather around the old coal burning stoves to stay warm, and spend hours discussing (and arguing) about the prospects for each team and the players for the upcoming year while re-hashing the previous year's play. These gatherings became known as The Hot Stove Leagues and they still exist today, although advances in media and communications have made them quite a different animal.

From this idea, I am creating a new beast … The Tolkien Hot Stove League.

Now that Peter Jackson has finished his Hobbit trilogy (preceded by his LOTR trilogy), and the dogs days of cold old winter are upon us, I am feeling the need to dig into all of my volumes of Tolkien books and resources and renew some fun and interesting topics inspired by the Professor and his brilliant works.

My thoughts are to discuss and research interesting topics that present themselves when we read Tolkien's works, and then to write some short essays/papers on our finding s and conclusions. The conclusions need to be well substantiated by thorough research as unbiased as we can make it.

More importantly, any true Tolkien studies, I firmly believe, must be grounded in Tolkien's writings and not Peter Jackson's interpretive movies. While some of our questions and possible topics may be spawned by something we saw in the movies, the research and findings must come from Tolkien literature … Tolkien's imagination … not Peter Jackson's. Neither do I want to spend time comparing and arguing Tolkien vs PJ. Tolkien's writings are so rich in plot and characters and substance … let's stick with the professor only (at least for now).

So … this is a call for Tolkien researchers and enthusiasts to join me in this endeavor, and I think it could be great fun. Even better than our discussions and perhaps subsequent papers, would be the chance for everyone to dig into the Professor's writings. For those of you who haven't done this before, the results are astounding. There are volumes and volumes of research material out there including significant resources from Tolkien himself, brought to us by his son, Christopher, and by Tolkien scholars around the world.

• Did you know that Aragorn was originally the name that Tolkien gave to Gandalf's horse?
• Did you know that when Tolkien first began writing LOTR, Bilbo's name was Bingo Baggins?
• Did you know that in the early version of FOTR, Boromir survives and goes off to be an ally of Saruman?

What fun Tolkien research can be!

So … here is a first topic that I have continued to be fascinated about …
Why did Sauron focus more on Gondor and the south after the Battle of the Five Armies rather than the North? If he had thought about it more … if he had been a better tactician, would he have chosen to attack the north first … Rivendell, Erebor, the Shire, Arnor? He didn't initially know that the Ring had been found and was hidden, of sorts, in the Shire, so that could not have been a valid reason. What was his perceived threat from Gondor? Did he suspect that Aragorn existed and would threaten him eventually? Or … was it a matter of pride, as some think, that he first attack the men who built their cities at his very doorstep in Mordor?


There is a treasure load of research on this topic. What conclusions could we draw and substantiate?

If you are up for joining The Tolkien Hot Stove League, how would like to tackle this topic with me? Do you have another topic that you are just dying to sink your teeth into? While I would only like us to be focusing on one topic at a time, there is nothing wrong with having a bucket list of topics that we will address.

We will be posting initially at Viggo-Works where there is more traffic and ease of access, but eventually our postings will be linked to our strictly Tolkien website … Middle-earth Journeys.

Think about it. If you decide to join The Tolkien Hot Stove League, either send me (Riv Res) a PM here at Middle-earth Journeys, or email me at

[email protected]

. Hope to see a few of you around the old hot stove.