Smith of Wootton Major and Farmer Giles of Ham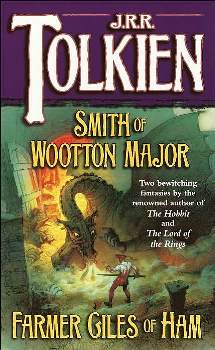 Farmer Giles of Ham
was first published in 1949 and
Smith of Wootton Major
was first published in 1967 by Allen and Unwin. No doubt that they were meant to feed the demand for Tolkien literature created by
The Hobbit
and
The Lord of the Rings
, yet relatively few have read them and, at first read, they probably disappoint. Yet, the careful reader can discern many of the same themes and images that find their fuller expressions in the better known works.
Author Paul Kocher says this about
Smith
:
A short prose meditation on the gift of fantasy, what it is, whence it comes, and what it means to the life and character of the man who receives it.
Perhaps, then, the story should be read in light of Tolkien's essay on Faerie? I wonder how Tolkien would answer Kocher's questions. And one can see something of Bilbo in the unwilling hero, Farmer Giles, although the dragon Chrysophylax bears only superficial resemblance to Smaug! Tolkien's mastery of language and his roots in ancient tales also form the backbones of the stories.
So, where shall we begin the discussion?
© Mass Market Paperback - Image Art: Pauline Diana Baynes