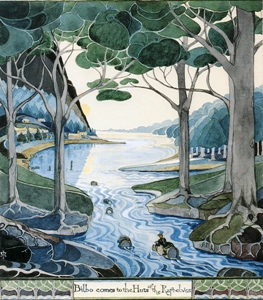 © J.R.R.Tolkien
J.R.R.Tolkien: Artist & Illustrator
We have long felt that Tolkien's art deserves to be as well known as his writings. The two were closely linked, and in his paintings and drawings he displayed remarkable powers of invention that equalled his skill with words.
He was by no means a professional artist. But he loved to draw, and found in his pictures as in his writing an outlet for the visions that burgeoned within his thoughts—another means of expression, another language, as it were, among the several in which he was fluent.
These two quotes, from the foreward and first chapter, respectively, of Wayne Hammond's and Christian Scull's wonderful book,
J. R. R. Tolkien: Artist and Illustrator
, articulate the tension that those of us who are charmed by Tolkien's drawings sometimes feel. Certainly they are not as skillful as those of Alan Lee or John Howe. But there is something absolutely authentic, just plain
right
, about the style and execution of his illustration of 'The Hill: Hobbiton-across-the Water' or the lovely Rivendell (a framed copy of which resides on one of my walls). And can anyone now draw the front hall of Bag End or Durin's Door in any way substantially different than Tolkien did? Fortunate indeed are the ones who own copies of Tolkien's books with his own illustrations included!
Hammond and Scull have given us a detailed look at the Professor's artistic journey from boyhood drawings, to his mature illustrations of Middle-earth, to the decorative doodles and heraldic designs that fascinated him toward the end of his life. Is his art as skillful as his prose? Well, that would be the topic for a really fine discussion, wouldn't it?
This is the place to discuss Tolkien's artwork and Hammond and Scull's commentary, in compliance, of course, with the House Rules. Do you have a favorite drawing or painting by the Professor? A treasured copy of
The Hobbit
with his own illustrations? A theory about why his art is so charming? Then let's talk, shall we?
As always please be mindful of our
House Rules
.