Artists in Profile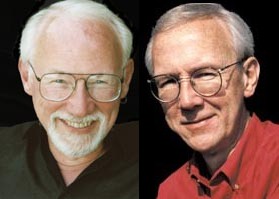 The Brothers Hildebrandt
Although I first read Tolkien in the early 1970's it's only in the last few years that I've become familiar with the work of the Brothers Hildebrandt. I guess no one ever bought me one of their now famous calendars of 1976, 1977 and 1978. But I was familiar with the name – I confess I thought they were a bit like the Brothers Grimm, connected with fantasy but I wasn't sure how.
When I started re-reading Tolkien (around about the time of certain rather famous films) I also started delving into Tolkien artists and there, popping up in Google searches, was that magical sounding name again 'The Brothers Hildebrandt'. Two fairy-tale sounding brothers painting together was too intriguing to pass up – plus they were
the
Tolkien illustrators of that pre-film heyday of Tolkien, the '70s and therefore deserved some serious attention. But although I looked at all their Tolkien illustrations I've held off talking about them. The awful truth is that before I started looking at their work in detail, in the main I didn't like it. It's not that the paintings aren't accomplished – nothing could be further from the truth – they are
very
accomplished. It's not that they don't choose interesting parts of the stories to paint, they do. It's just that their vision of Middle-earth is rather too far from mine. But the key phrase here is 'before I started looking at their work in detail'. There are some aspects of their work that I really do enjoy now and want to talk about. There are also interesting questions to be asked about whether their early and rather more 'fairy-story' vision of Middle-earth holds up now we have Lee, Howe and Nasmith, and following them, Peter Jackson's films. Then there is the fact that the way these twin brothers have worked together is, in itself, very interesting. And with Tim Hildebrandt's death in June last year after a return to illustrating Tolkien on commission and a retrospective book, I'm wondering what the future will hold for Greg and whether we will see any more Tolkien art on the horizon.
Before we delve deeper here is a little about the brothers.
There are many interviews with them on-line but I found a particularly interesting one given to Mark Sanders of twinstuff.com in 2001 which I really recommend reading and from which all the quotes below are drawn:
The Brothers Hildebrandt: A Portrait of Master Twin Artists
There is another interview with A. Jaye Williams here at
Scifi.com
In brief, they are identical twins and were born in Michigan in 1939. They always wanted to draw and graduated together from Meinzinger's Art School in Michigan in the 1960's. They then both went to New York City with the aim of forging a career as illustrators. In 1975 they were commissioned to illustrate the 1976 Ballentine Tolkien Calendar, something that changed their careers for ever, as the calendar was successful beyond anyone's imagining and led to two more in 1977 and 1978. The 1978 calendar sold an astonishing million copies and probably defined the way a lot of Tolkien readers of that decade saw Middle-earth in the same way the films have for those coming to Tolkien in the new Millennium.
The calendars were a life-changing event, but it was something that Tim remembers not wanting to do at the time. "Greg was the one who was really latched onto that (Tolkien and his trilogy). I really wanted to pursue my own gallery but he kept bringing it up and bringing it up so I finally said, 'Let's do this thing'!"

© Copyright Twinstuff.com
As well as Tolkien the brothers found worldwide fame by designing the first ever iconic Star Wars poster and they also worked for both Marvel and DC Comics, numerous book companies and created covers for SpiderMan, Superman, the X-Men and Captain America. They were joint winners of the Gold Medal from the Society of Illustrators. When they didn't achieve their dream of becoming Disney animators, they became animators and documentary filmmakers themselves, even hoping to make their own
The Lord of the Rings
film. They even wrote their own fantasy novel,
Urshurak
, which was a bestseller.
But in 1981, at the height of their success and to everyone's astonishment, the brothers - who had always worked together since the beginning in their joint New Jersey studio - parted company. For 10 years they pursued separate careers and barely spoke to each other until being reunited in 1993. In 1995 they started the Spiderweb Art Gallery to create an online showcase for fantasy artists.
In 2001 with all the renewed interest in Tolkien that the films generated, they released a new book containing their 1970's paintings,
Greg and Tim Hildebrandt, The Tolkien Years [Watson-Guptill Publications Inc.,U.S.]
with text by Gregory Hildebrandt Jr. which was a runaway success, and also re-released their older work in a series of new Tolkien Calendars. They then released an Expanded Second Edition of their book in 2002 which intriguingly includes photos of friends and family members who posed for many of the characters in their calendar paintings. It must be strange to be walking around with the face of Gandalf (something Ian McKellen would sympathise with….). The new edition also includes two new Tolkien-inspired paintings which were commissioned by private buyers. Maybe with the book they felt the time was ripe to revisit and re-affirm their own unique vision before it was swallowed by Peter Jackson, Lee and Howe's for ever. But have they successfully brought their vision to the different, edgier and more realistic artistic expectations of 21st Century Tolkien fans?
Let's have a look at some of their work.
Tim Hildebrandt says in an interview with Scifi.com that "What we love about the whole sci-Fi/fantasy genre is that it deals with pure imagination. Being able to fully utilize your creative thought is awesome." They cite their favourite artists as Pieter Brueghel, Bosch, Monet and Rembrandt and I can certainly see the Rembrandt influence in their terrific use of light, especially in paintings like
The Healing of Eowyn
,
At the Prancing Pony
,
The Return of Gandalf
and the painting below,
Captured by the Orcs: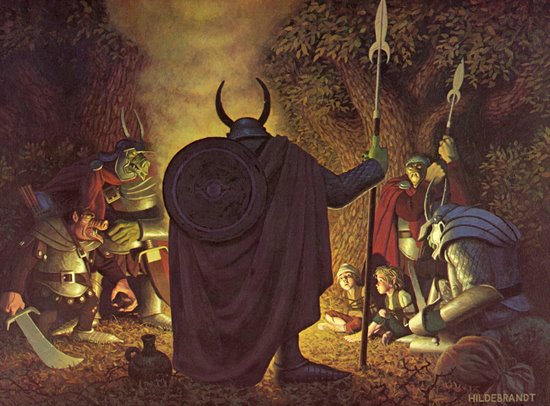 Captured by Orcs
© The Brothers Hildebrandt
Understanding how to use light is one of the brothers' strong points. The positioning of the Orc captain dominates the scene even with his back to us, filling the centre of the picture and emphasising how small and vulnerable the Hobbit's really are. The clever use of lighting means that even with such a dominant central figure our eyes are drawn to the Hobbit's faces and the wonderful fearful expressions on them. Another painting where the use of light is wonderful is
Lady Eowyn and the Nazgul
: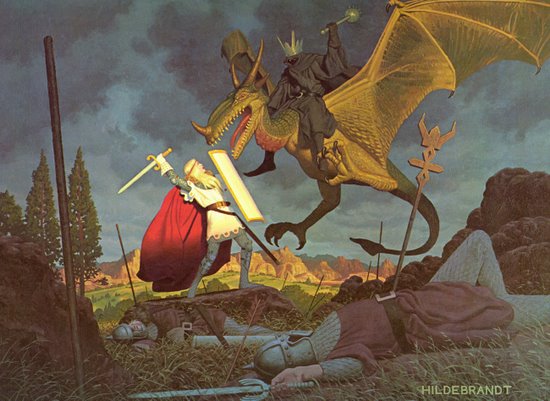 Lady Eowyn and the Nazgul
© The Brothers Hildebrandt
Here the golden rays of late sunlight breaking through stormy grey clouds catches Eowyn and her shield, and the mountains behind, leaving the field of battle below her in grey shadow. To say it's expert doesn't do it justice.
Like many fantasy illustrators their works are done in acrylic because it dries faster than oils. Much interesting information about Tim's technique can be found in
The Fantasy Art Techniques of Tim Hildebrandt, [Sterling books, 2000].
One painting I like very much is
An Unexpected Party
: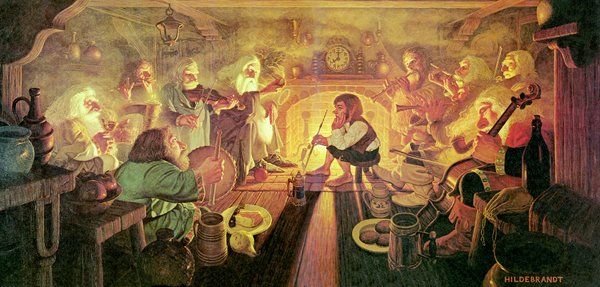 An Unexpected Party
© The Brothers Hildebrandt
Again the lighting is excellent, Bilbo's discomfort at the arrival of the dwarves is perfect and the painting is full of atmosphere. In a nice anachronistic detail the clock over the mantle has runes instead of numbers (seen better in the larger version at Rolozo Tolkien). And the jewels around the hems and sleeves of the dwarves tunics showing their love of gems is a nice touch. Here the Hildebrandt's fairytale style works perfectly for the
The Hobbit
and its delightful opening scenes. And there are none of the kind of stagy grand gestures we get in the paintings done for the later chapters of
The Lord of the Rings
(
The Healing of Eowyn
again). In fact apart from the Brother's Grimm style Beer Stein by Bilbo's feet this is as perfectly pitched a painting as you can get.
Another painting that I want to look at is
Ghan-Buri-Ghan
: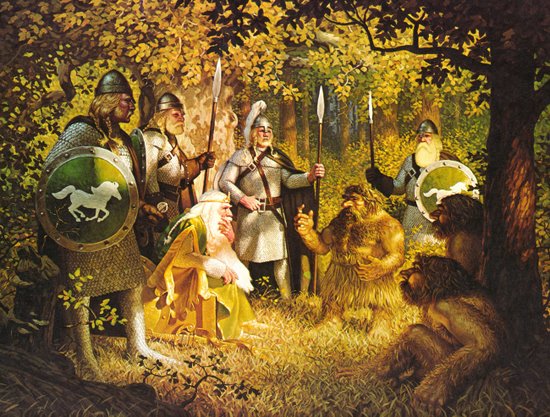 Ghan-Buri-Ghan
© The Brothers Hildebrandt
I love this painting for two reasons. Firstly because they have taken the trouble to show us Ghan-Buri-Ghan - the only other example I can think of is by Ted Nasmith – and to show us this
particular scene
, and secondly because I love the way King Theoden is at the same level as Ghan-Buri-Ghan, listening attentively and respectfully, surrounded by a phalanx of tall Rohan warriors. It's a lovely scene, perfectly depicted and pretty unique in Tolkien illustration. Again the use of light is spot on, with rays of sun streaming through the trees and making Theoden's beard glow whiter than white. The whole scene says as much about Theoden and why Merry loved him as it does about Ghan-Buri-Ghan. And the warrior second from left is perfectly lit, his face is shadowed by the tree above him but the light on his mail is reflected up onto his face from below. It's beautifully done.
These paintings aside, the weakness in their work, for me, is generally their figures, not because of any inability to draw them, they are expert figurative artists, but how they are imagined. Legolas looks like Robin Hood, Aragorn, (as in
The Return of Gandalf
), like one of the Three Musketeers. They somehow don't move from Hollywood medievalism to Middle-earth.
Goldberry
and
Rivendell
are straight out of a children's fairytale, and yet we know that in
The Lord of the Rings
Tolkien wasn't writing a children's book or a fairytale.
And yet one sees from their many interviews that one of the aims of the Brothers was to be realistic, to do justice to the realism that they saw in Tolkien and to his preferred way of depicting Middle-earth as a vision of our own unrecorded early history. I'm not sure that that by leading us in many (but not all) of their paintings into the familiar world of fairytales and medievalism that they've succeeded. It somehow seems
less
real, less like our forgotten ancient history. But these paintings are from 30 years ago and our expectations have moved on. And some paintings undeniably pass the test of time – including the grander landscapes of the
Siege of Minas Tirith
,
The Dark Tower
and the brooding, apocalyptic
Cirith Ungol
. It's intersting to ask, if Tim was still alive and they were illustrating Tolkien now and coming to it fresh and new, would they do any or all of it differently?
So what of the question I posed earlier?
But have they successfully brought their vision to the different, edgier and more realistic artistic expectations of 21st Century Tolkien fans?
It's interesting here to look at the new commissioned works (very few, alas) one of which is reproduced below. The style in it has moved more towards their home ground of comic book fantasy art, neither fairytale nor yet quite a realistic depiction of Middle-earth: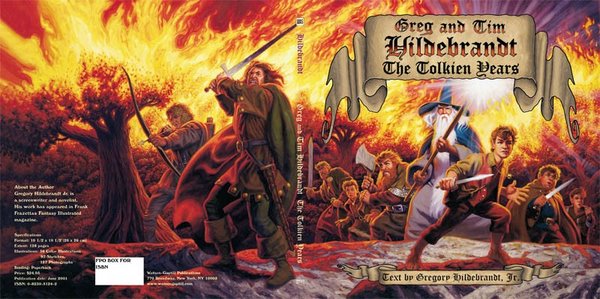 Cover: Greg and Tim Hildebrandt, The Tolkien Years
© Watson-Guptill Publications Inc.,U.S.
Frodo is very different from the child-like Frodo of their earlier illustrations and in many ways better for it. But in one very significant way he seems to me to be even more un-Frodoish, having morphed into an action hero at the forefront of battle alongside Aragorn.
A second painting shows a similarly gung-ho Frodo with Gandalf and Arwen, all in warrior poses and straight off a comic book cover.
I hoped that by studying their work in more depth I might be converted. There is no doubting the excellence of their technique and their place in Tolkien art. There are many successes. If there is any failing in the original calendar paintings for me, and this is purely my personal view, it was finding a lasting and consistent vision so early on in the history of Tolkien illustration that would make a break from the past of fairytale art and paint a truly new imaginative world for Tolkien's creation to inhabit. There are still questions. With Tim's death will we see any more Tolkien paintings from Greg? Will they be different from the all-action one above, breaking from both the past and the comic book genre and finding a truer style? Or has that time passed with the release of the retrospective book celebrating their Middle-earth work? And finally - am I converted? Well…..looking at the older paintings above….yes, partially I think I am!
If you want to learn more about Greg and Tim Hildebrandt you will find their Official Website here:
brothershildebrandt.com
And their work is sold via the Spiderwebart Gallery at 5 Waterloo Road, Hopatcong, NJ 07843 or via the web at
spiderwebart.com
As ever, high-res images of their Tolkien art can be seen at the invaluable
Rolozo Tolkien