Artist in Profile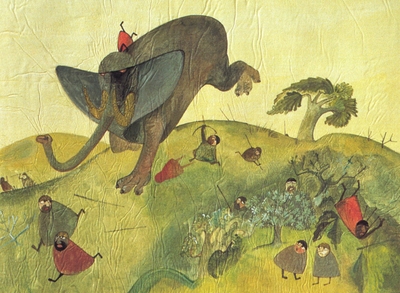 © Cor Blok
Cor Blok
'Tolkien himself approved of Blok's paintings'. I read these words in an Amazon review with amazement. Cor Blok? Aren't they those weird and childlike paintings that appeared on the covers of the 1965 Dutch editions of
The Lord of the Rings
? Mmmm. Time, I thought to take a closer look.
Then I hit a major stumbling block (or blok
). There is hardly any information about Cor Blok to be found. There is a Cor Blok who is Chief Curator of Contemporary Art at the Museum Boymans van Beuningen in Holland. Is it the same man? No idea. What I do know, from a passing reference, is that he once visited Tolkien who apparently liked his style, and that he produced some truly remarkable cover illustrations for a combined
The Lord of the Rings
Volume (Het Spectrum, 1965) and for subsequent individual volumes of the three books. The Dutch, of course, were far-sighted enough to be the first to translate
The Lord of the Rings
in 1956.
So – unless there are those of you who know more about Cor Blok (please let it be so) - I'm left with just taking a look at these rather strange paintings and telling you what I think of them. Maybe we can get past their initial childlike and cartoonish quality and see something of what Tolkien saw.
To start us off, let's take a closer look at one that didn't form a book cover, his rather astonishing picture of the
Mûmak of Harad
: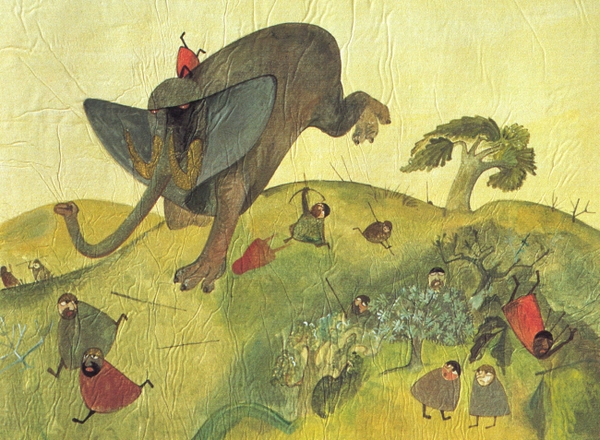 The Mûmak of Harad
© Cor Blok
This appeared in the 1998 J.R.R. Tolkien Calendar and a reviewer, after declaring it the best illustration in the calendar, called it 'A great painting'. So, why is it great? The only copies of it I could find show it as all wrinkly, probably because it was painted on thin paper in water colour (guessing here) and perhaps (guessing here again) pasted on a board. But this wrinkling gives the illusion of a centuries old parchment which has somehow been saved and been passed down to us. I'm supposing this is accidental, not deliberate, but it adds a certain something. It's also one of the reasons why, to me, it has the feel of a Persian miniature about it. That and the stylised landscape and trees, and the movement of the figures. But have you ever seen a madder Oliphaunt? The raging red eyes, the beetling brow, the unlikely and very threatening clawed feet? And the way it's galloping along with both its hind legs kicking high into the air! No wonder they are all running. It's awesome and crazy in every sense and I admit that I love it. And then there is that little figure in red that can't hold on and is falling off its back.
In the right foreground are two astonished figures which must be Frodo and Sam, as they look very like the hobbits in Blok's other hobbit drawings. Right under the Mûmak's belly is a brave soldier kneeling with a bow and what looks like the red shadow of a man lying flat on the ground. Is it my imagination or has he been completely flattened into a red smear…?
And now for some thing completely different.
Riddles in the Dark
: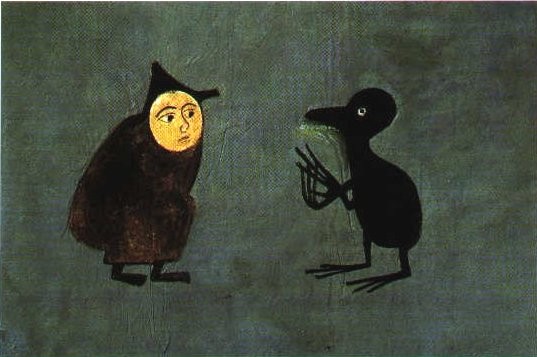 Riddles in the Dark
© Cor Blok
Riddles is very dark, almost monochromatic with no visible background - just what you'd expect from a cave deep, deep under the mountains. I've lightened the copy shown here just so you can make out the details in it. Gollum is totally unlike any depiction of Gollum I've ever seen, almost duck-like in shape, with his creepily long fingers and toes and his pale, glowing eye. He's almost wringing his hands and I like to think it's the moment when he's trying to guess what Bilbo has in his pocket. But the part of the painting which really grabs your attention as soon as you look at it is Bilbo's face, which is brightly lit and seems to hover like a full moon in an ink-black sky.
So let's take a look at one of those book covers: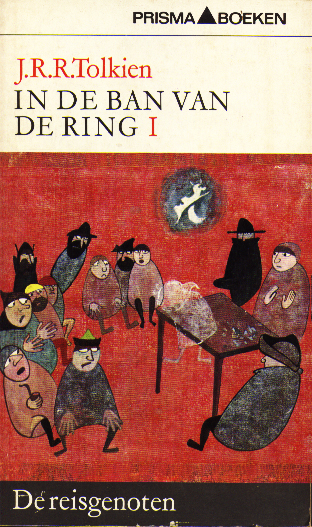 Cover: The Fellowship of the Ring
© Cor Blok/Prisma Boeken
Here is the cover of
Fellowship of the Ring
which shows Frodo putting on the Ring in the Prancing Pony and disappearing, to the clear astonishment of everyone watching. Frodo is the qhostly form in the centre and we can see right through him to the table beyond, caught in transition between being visible and invisible. Behind him is a sinister figure, sitting alone with his cloak pulled right up to his nose so only his eyes can be seen. He isn't the least bit surprised by what he's seeing and to me this looks like Strider. Above is a lively depiction of a Friesian cow jumping over the moon. The crowd in the Prancing Pony is a really cosmopolitan crowd who look as thought they have come from the four corners of the earth. The man seated bottom right seems to be sporting a great-coat and sou'wester! All in all it's a fun picture and an interesting choice of subject for the cover of the first book. It makes you want to read it to find out what on earth's going on.
Although Cor Blok's style appears simplistic on the surface he cleverly combines stylised figures reduced to the absolute basics with a strong sense of identity, drama and emotion. The more you look at them the more you get. He can also pull out all the stops and present the epic with all the force of the best of the more literal artists, as you can see in
The Battle of the Hornburg
: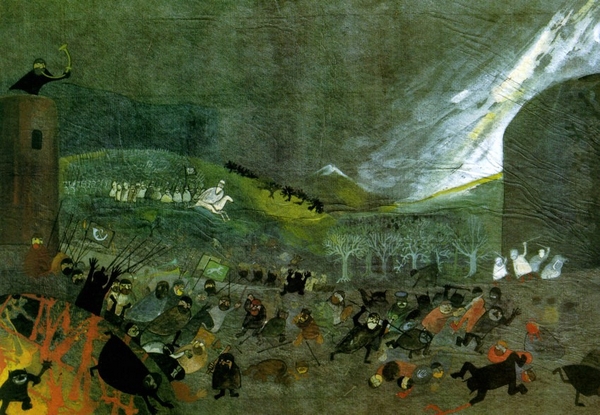 The Battle of the Hornburg
© Cor Blok
This is the moment where the whole battle changes from desperation to triumph. The cold light of dawn can be seen breaking through the clouds and lighting up a distant, snow-capped mountain. Gandalf rides to the rescue at the head of an army and below him he is mirrored by Theoden riding out of the Hornburg under the green and white flag of Rohan. The white galloping horse on the flag is
another
mirror of Gandalf riding snow-white Shadowfax, above (it's worth looking at the larger copy at Rolozo Tolkien here). Just below Theoden is a figure that looks like Gimli with his axe, while on top of the tower a soldier sounds the Horn of Helm Hammerhand. In the very centre of the picture, in a pool of bright green, are black trees that seem to be galloping down the hillside along with Gandalf. There are many more details to notice and enjoy. It's a very well organised and dramatic representation of a very difficult and complex scene, and although the figures are stylised there is nothing cartoonish about the battle or the dark forces that the heroes are pitted against.
Unfortunately there are very few Cor Blok's to share with you, just a badly preserved handful to show us his unique view of Tolkien's World. I urge you to take a look at his other works, the other two LOTR covers and the dark and mysterious
The vision of Frodo upon Amon Hen
which needs to be seen at a large size to be appreciated. I'd be very interested in knowing what rest of you make of them. Blok is a unique artist and I'm glad that we get to see just a little of Middle-earth through his eyes.
For more of Cor Blok's paintings take a look at the wonderful
Rolozo Tolkien
website.
So.....everybody....what do you think?