Artist in Profile

© Moona Björklund
Inge Edelfeldt
Like our last Artist in Profile, Roger Garland, Inger Edelfeldt is another artist who used to illustrate Tolkien but has now moved on to other things leaving us wanting more. She grew up in Stockholm where she still lives and she is now most known for her writing which includes novels, children's books (which she illustrates herself), poetry, plays and, most of all, challenging books for teenagers about the difficulties of growing up in the modern world, for which she won the
Deutscher Jugendliteraturpreis
. Perhaps a lingering Tolkien connection can be seen in her recent book for young adults:
Skuggorna i spegeln
(The Shadows in the Mirror), where her protagonist, Arri, has been named by her parents after Arwen from
The Lord of the Rings
, and who has a chance to escape the problems of the real world into a fantasy land, through her bedroom mirror.
Frustratingly, while a lot has been written about Inger Edelfeldt's writing I can find very little about her art or how she works. But I do know that I like her paintings a lot. Our last artist, Roger Garland, illustrated the
1984 Tolkien Calendar
and Inge illustrated the 1985 one which included this beautiful painting of
Legolas
- my favourite depiction of him - with the correct black hair of the elves of the Woodland Realm
(edited to add: or may be not, see interesting discussion below)
and his keen elf eyes sizing up his target: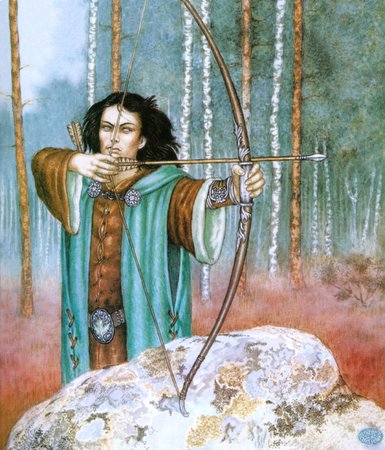 Legolas
© Inger Edelfeldt
There is beautiful detail on his buckle and on his bow, and also in the lichen on the rock which has been achieved by using a stippling effect with the point of a very fine brush on a dry wash. I'm guessing, looking at her paintings, that she works only in watercolour which gives the beautiful subtlety of tone you can see in the background. You can also see the same dry stippled effect on the trees and there is a wet-in-wet wash in the far left background which makes the distant trees fade magically into the sky. She builds up a lot of the body of the painting, though, using a layering of very fine strokes in the same way that many of the 19th century watercolour masters did.
The second picture I've chosen to look at is the
Scouring of the Shire
where we see Pippin and Merry in their Gondorian and Rohan Garb. I've picked this one because I've seen so few illustrations of the Scouring: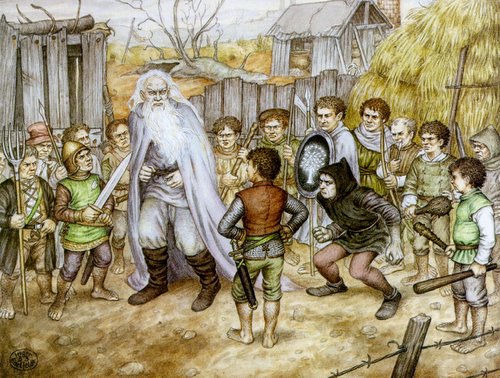 Scouring of the Shire
© Inger Edelfeldt
The Hobbits look like a force to be reckoned with and Saruman is clearly no longer the great Wizard of Isengard. In the background you can get a taste of the destruction in the Shire with a felled tree and distant chimneys. This is a very complicated scene to illustrate involving a lot of important figures who all need a prominent place in the painting, but Edelfeldt can handle scenes like this confidently and there is an amazing variety in those Hobbit costumes! She shows the same confidence in the next picture – an even more complex scene and another one that I haven't seen attempted often: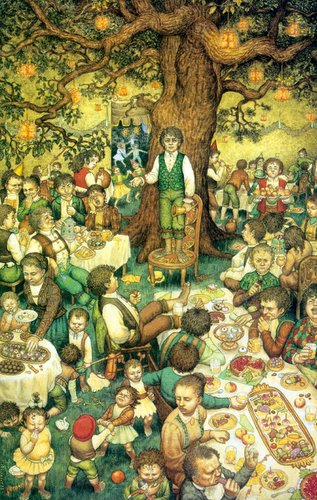 A Long Expected Party
© Inger Edelfeldt
There is such wonderful detail here and you can look at it again aand again, and still find something new. Everything about it is delightful from the chubby Hobbit children at the bottom to the food which has some nice healthy fruit (and even a carrot) along with the multitude of cakes and cherry pie. Bilbo's outfit is, of course, very splendid as befits his wealth. The detail and interest in the picture almost makes you forget that it's painted from a very difficult perspective - where we look down on the scene from a high point - and in an unusual upright format for this type of scene. It's an interesting way to tackle a large group and not the obvious choice to go for, but it works magnificently, creating a lot of activity and allowing us to see a large number of figures in detail all at one time without them blocking each other.
Edelfeldt is also capable of darker themes and I love her
Death of Glaurung
where the figures of Turin and Nienor lie so close to Glaurung's great mouth you want to beg them to move back a bit. There is a real look of evil in his baleful eyes and I also like the way his front legs are turned back showing us that this is a dragon that will never rise again. It's also a great use of monochrome, seemingly almost black and grey but full of subtle shades of colour with yellows, pinks and blues: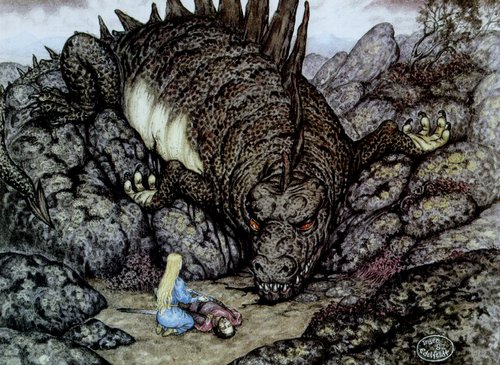 Death of Glaurung
© Inge Edelfeldt
Inger Edelfeldt is another artist I would have liked to have seen more Tolkien art from but her career has taken her in other directions. I would love to have seen how she would have handled the Hall of Fire in Rivendell or the Flets of Lothlorien. Maybe one day she will again have the time to show us. In the meantime let's finish with another favourite of mine – her marvellous, careering Oliphaunt: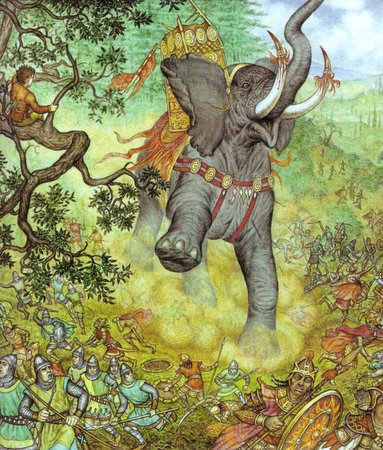 The Oliphaunt
© Inge Edelfeldt
Many more versions of her Tolkien work (including larger versions of those shown above) can be seen at
Rolozo Tolkien
.