Artist in Profile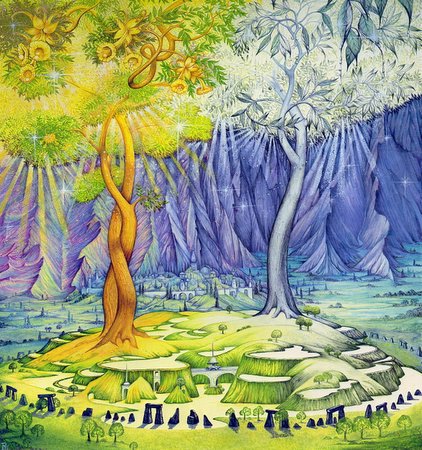 Two Trees of Valinor
© Roger Garland
Roger Garland
I was first introduced to the work of
Roger Garland
by seeing his painting of the
Two Trees of Valinor
(above) on the internet and loving it so much I had to find more of his artworks. It still remains by far and away my favourite painting of the Trees although the circle of prehistoric dolmens around them is a little strange, more reminiscent of Merlin than the Valar and the Elves, but then Garland is a West Country man, born in Devon and working in Cornwall and that country is full of the relics of Britain's forgotten past. That quibble aside, to me there is something so fairytale about the Trees that they seem to hold up the roof of the world.
Garland discovered Tolkien as an art student in the 60's and has found his artistic inspiration amongst the Pre-Raphaelites and French Symbolists although he draws very much from his imagination. He first studied art at Plymouth Art School and then graphic design at the Wolverhampton School of Art and Design, going on to teach art at Poltair School in Cornwall. His paintings have been published in both the 1984 and 1989
Tolkien Calendar
(with just one other appearing in the 1998 calendar). He has also illustrated some of Tolkien's smaller works, including
Farmer Giles of Ham
,
The Adventures of Tom Bombadil
and
Smith of Wootton Major
(Allen and Unwin 1990). Roger and his artist wife Linda (who has herself co-illustrated a Tolkien Bestiary) founded the Lakeside Gallery in Cornwall and they have a new website at
Lakeside-gallery.com
. It's the aim of their gallery 'to promote book illustration as a serious art form and to make this accessible to a wider audience', though most of Roger's current work is fine art rather than illustration and he has long since moved away from Tolkien. Their Tolkien Collection is permanently on show there and he has said that the grandeur of the Cornish landscape and its mythology is an inspiration to both of them. Limited edition prints and cards can be bought via their website although their online shop is still under construction. I have to say that I'm sorry Garland no longer illustrates Tolkien. I would have liked to have seen where his unique vision would have taken him over time and whether he would still be as fantastical or if his view had changed.
Garland prefers oils as a medium, something quite unusual in illustrators, working up from a thumbnail and a detailed drawing to the finished painting. I must confess that I was very surprised to discover that the paintings were oils because of the very fine level of detail. He must build up his paintings with thin washes and use fine brushes for much of the work to achieve his distinctive style.
Some people more used to the more realistic visions of Middle-earth that, say, Alan Lee has given us, might say this is too much like the fantasy art which was so popular in the 1970's and 1980's. But then there was nothing in the least bit realistic about Tolkien's own landscapes. In Garland you don't get a Middle-earth that looks like a young, fresh version of our world like Nasmith, or a focus on the individual struggles of Tolkien's characters, like Eissmann. What you do get are some wilder imaginings of the fantastical in Tolkien's world such as the awesome vision of Earendil's ship sailing through the Gate of Morn in one of his best know illustrations below: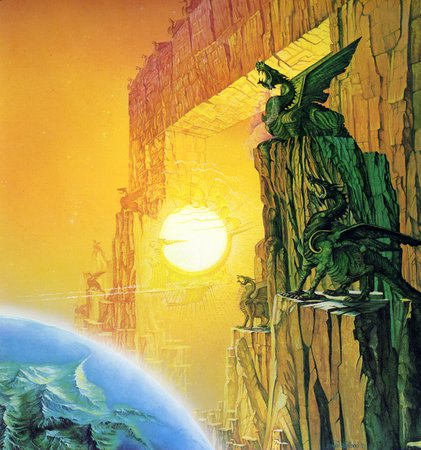 The Gate of Morn
© Roger Garland
Or the quite terrifying vision of Barad-Dûr with it's sinister piled-up objects that look like skulls or eggs and wild clouds parting above the tower as even the elements obey Sauron: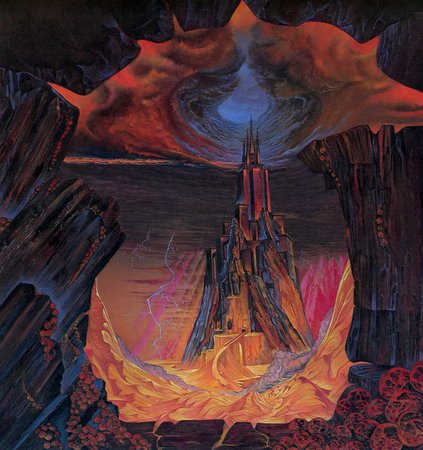 Barad-Dûr
© Roger Garland
Though what I find most surprising is Gandalf on the Bridge of Khazad-Dum being lassoed by the Balrog, the only picture of this I've found where the artist has chosen to depict the moment
after
the Balrog has fallen and so isn't in the painting. Given Garland's love of the fantastical it's an interesting moment to choose with the most spectacular subject missing and concentrating on the moment between triumph and disaster.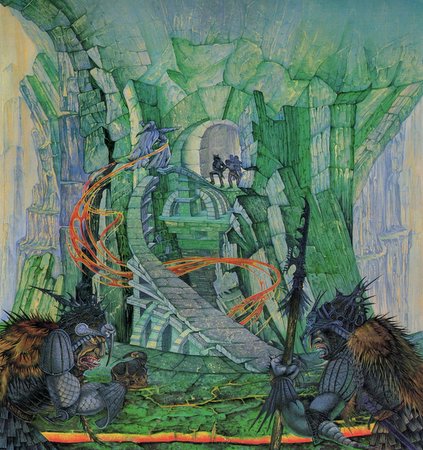 The Bridge of Khazad-Dum
© Roger Garland
I can't claim to like all of Garland's illustrations, some are too far removed from my own vision to identify with what see, but those that I like, I like a lot. And one thing I like a lot is a wonderful full panorama of Middle-earth which is, I think, very like Tolkien's own style to look at. It shows all of Middle-earth in a forced perspective, compressed into the one work with Bag End and the Shire in the foreground, Isenguard, Minas Tirith (it's towers just seen peeping over the golden hill bottom left), the Falls of Rauros and much, much more. It may not be strictly geographical but it is fascinating to study and holds all of Tolkien's world in its borders. I think Tolkien would have liked it too.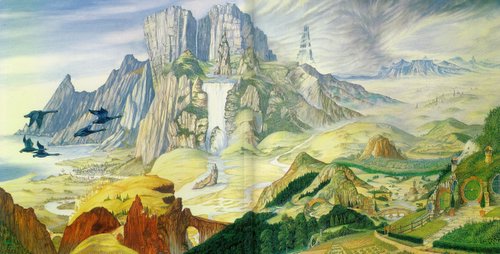 Middle-earth Panorama
© Roger Garland
Here is the link to Roger's own website:
Lakeside Gallery
And larger versions of his Tolkien work (including the panorama above) can also be seen at:
Rolozo Tolkien