Artist in Profile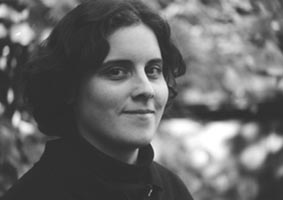 Anke-Katrin Eissmann
Anke Eissmann
is a young German artist carving out a growing reputation for herself as a unique Tolkien illustrator and graphic artist. She studied visual communication at Bauhaus University, concentrating on video and you can see some examples of her early video work
here
on her interesting website which is well worth a browse around. While working on her videos at Bauhaus she used conventional drawing for the storyboarding and I think that there is a feel of storyboarding about her Tolkien paintings with their 'widescreen format' and composition. It's almost like she is showing us privileged glimpses of the ideal film which she has in her head (as do we all…).
Her love of Tolkien led her to working on Tolkien illustration as a personal project while doing her course, using the internet as a platform to get her work out into the wider world where it was soon recognised as something new and different by Tolkien fans. The opportunities to exhibit which this gave her was enough to encourage her to study art and design at the Colchester Institute in the UK. It's worth looking on her site at the striking work she did on
Beowulf
, combining illustration, graphic design and typography - I would really love to own that book! With growing recognition as an artist she was one of two artists chosen to feature in Michael Martinez's
Parma Endorion: Essays on Middle-earth, (3rd edition)
which was published initially as an eBook and was the top download of 2002. She is also one of the two artists illustrating Robert Ellwood's
Frodo's Quest: Living the Myth in The Lord of the Rings (Quest Books 2002)
When illustrating Tolkien she says herself that she chooses:
…those scenes and characters which tend to be overlooked by other artists, scenes not charged with great action or emotion or drama, but nevertheless important for the story and rewarding to paint in my eyes.

© Anke Eissmann, Rolzo Tolkien
Her paintings are very intimate and character driven, and although she says herself that she chooses moments not 'charged with great action or emotion or drama', I think they very often are. But she is more finely attuned to the deeper, quieter emotional moments rather that the epic, grander ones, as can be seen by her lovely series of paintings of Faramir and Eowyn in the House of Healing: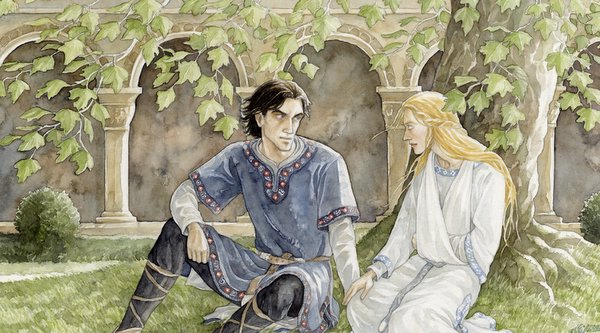 In the Houses of Healing
© Anke-Karin Eissmann
In interviews she says her aim is not to give us a definitive vision of Middle-earth by being over-realistic like many fantasy artists, and therefore limit our vision, but to suggest Tolkien's world and feed our imaginations. Her watercolours are quite a contrast to Nasmith's epic landscapes and heroic figures. Smaller in scale (22.5 x 40cm), delicate, concentrating on the characters of Middle Earth and, more often than not, their quieter moments, they show a masterly use of a deliberately limited colour palette and a strong sense of rhythm and pattern. Many are extraordinarily beautiful such as the one below of Voronwe with its delicate grass and it's soft, muted greens and blues: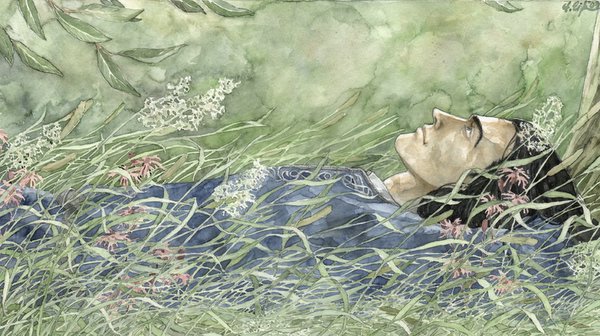 Voronwe in Nan-tathren
© Anke-Karin Eissmann
She uses thin slivers of unpainted or barely tinted white paper to inject light into the scenes, letting it edge leaves and grasses, which are carefully picked out, and creating strong rhythmic patterns. She uses both wet-on-dry and wet-in-wet technique. Wet-on-dry means painting a new wash onto a dry surface so there are clear edges between each wash, whereas wet-in-wet involves running a new wash into a another before it dries as can be seen in the background of
Voronwe
(above) and in the background on the top left of
The Quest Fulfilled
(below) where the Silmaril is given back to Beren after being taken from the belly of Carcharoth: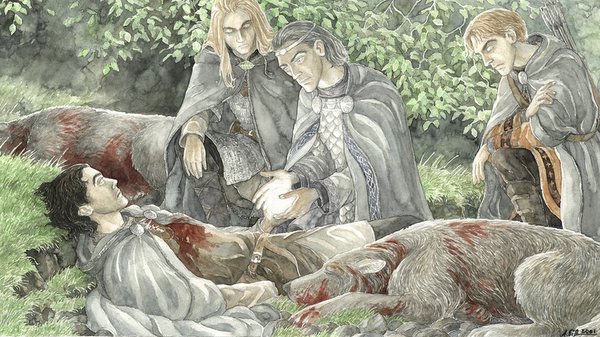 The Quest Fulfilled
© Anke-Katrin Eissmann
This creates beautiful soft tones, subtle colour variations and edges that 'bleed' giving random textures. For wet-on-dry see the fine hairs on the faithful hound Huan and the delicately edged leaves in the trees behind. The limited use of colour is very distinctive in her work and gives all the paintings a faded feel which, I think, adds to their sense of a distant time. Unlike Nasmith's fresh bright colours which makes us feel that we are there and present in a newly created world, with Anke's muted tones there is more of a sense of looking back through the mists to something beautiful but long gone.
The
Gallery KUNST+
in Wetzlar, Germany handles some of her work for sale should you ever want to own your own Anke Eissmann (click on Künstler der Galerie) and I found an on-line mention of postcards and T-shirts being available as well, though I couldn't find those on the actual site.
Anke is clearly at the start of an exciting career as a designer, something that will take her beyond her current recognition amongst Tolkien fans as a Tolkien artist and into new and exciting projects, perhaps in illustration, graphic design and typography or even film which is a medium she is clearly very interested in. I, for one, hope that she also finds the time to keep giving us her beautiful visions of Middle-earth.
In my last look at Ted Nasmith I left you with his lovely illustration of Luthien escaping from the tree house so it's nice to finish here with Anke's version of the same moment: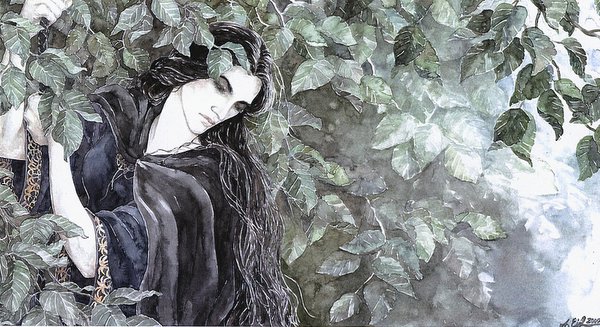 Luthien prepares her escape from Hirilom
© Anke-Katrin Eissmann
Here is the link to Anke Eissmann's own website where you will see some of her most recent paintings:
Anke's website
And most of her work can also be seen at:
Rolozo Tolkien
.