Artist in Profile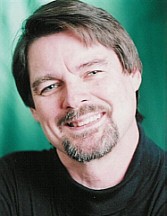 Ted Nasmith
There are so many wonderful Tolkien artists and while I see we are a real Alan Lee Appreciation Society here I thought it might be nice to profile a few others occasionally!

There are so many different styles, so many different visions of Middle Earth to enjoy I'm going to post different works here as an occasional series for us to look at and discuss, along with a brief profile of the artist and some links if they have a website. If anyone else wants to add a picture for discussion or comparison please do! The more the merrier and we all have our favourites. Since we are already talking about Ted Nasmith I think he'll be a good place to start.
Ted Nasmith
is a Canadian artist who became fascinated with Tolkien in high school. As he says on his website:
Discovering Tolkien……had a very profound effect on me and helped lead to much that I now count most significant in life. It opened in me a dormant love of lost and misty times, myth and legend. Not since childhood had a felt such a sense of 'home'…
© Ted Naismith
Ted sent photos of his earliest paintings to Tolkien in a fan letter and received an encouraging reply which must have been a boost to a young artist with a growing obsession. One of Ted's earliest influences was seeing the realistic work of the Brothers Hilderbrandt in Tolkien calendars and he believed he could both learn from them and improve on their vision. His first real success came when George Allen & Unwin took up four of his own paintings for a Tolkien calendar. More calendars and book jackets followed and an exciting (and daunting) offer from HarperCollins to work on the first ever illustrated
Silmarillion
which was published in 1998. A new version appeared in 2004 with more paintings and a real progression, I think, in both skill and vision.
Along with Alan Lee and John Howe he was asked to help with the conceptual art for the Peter Jackson films, but family and work commitments made it impossible. Given how long the other artists ended up living in New Zealand it's not surprising! As each film came out, so did a new Nasmith
Lord of the Rings Calendar
. The picture below of the
Grey Havens
from 1996 shows that his vision still had some influence on PJ: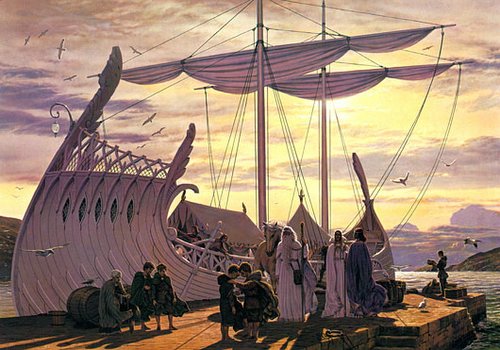 Departure at the Grey Havens
© Ted Nasmith
Ted juggles illustrating Tolkien with his other job as an architectural renderer (realising future buildings in detailed paintings), but interestingly he doesn't paint the figures that inhabit them, leaving that to a fellow artist. You might be surprised to learn that he is also a performer and is currently working on a CD of his Tolkien songs. You can hear some of them
here
. He also paints lots and lots of classic cars…
Looking at Nasmith's many paintings I think his great strength as an artist lies in his visions of Tolkien's vast landscapes, its great monuments and awesome buildings where he shares Tolkien's feel for the epic. Everything seems so much brighter, grander and sharper than our own modern day world. He has mentioned in interviews that he was influenced by nineteenth century neo-classicists and romantics such as Frederick Leighton, Frederick Church and Albert Beirstadtand and he has the same brilliancy of light and carefully rendered details in his work. This is what achieves that sense of a younger mythic world that we get from looking at his paintings, magnified through the eye of a great visual storyteller. I think it's very significant that he says of Tolkien:
"His emphasis on light and shadow in particular, whether metaphorical or literal, justifies any artist's interest."
© Ted Naismith
I think
The Tree Shepherds
, below, is a wonderful painting, both mysterious and awe inspiring, and an unusual (but very 'Ted Nasmith') moment to choose to illustrate. This is the moment on the road to Isengard when three Ents emerged from the trees to the amazement of Aragorn, Legolas, Gimli and Theoden and
'lifted their long hands to their mouths, and sent forth ringing calls, clear as notes of a horn…'
: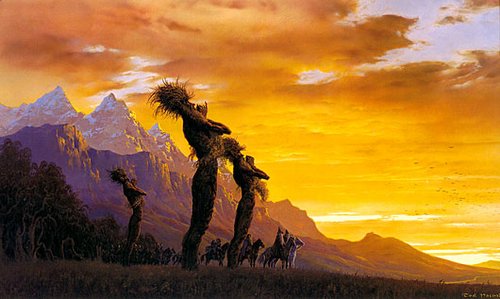 The Tree Shepherds
© Ted Nasmith
And here is the
Kinslaying at Alqualonde
from
The Silmarillion
which shows Ted's strong grasp of the architectural and some wonderful use of light in the clear turquoise water. It is also a painting he believes to be amongst his best work: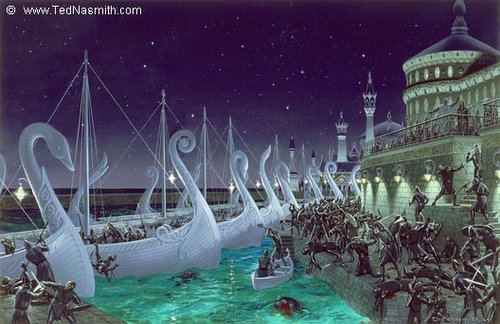 The Kinslaying at Aqualonde
© Ted Nasmith
Ted uses gouache for his work which is ideal for reproduction purposes and for conveying high levels of detail. It is also a wonderful medium for conveying both depth and luminosity.
If he has a weakness it's in his figures, something which has already been mentioned on this thread. Not just their form - in the early paintings they can be quite 'stiff' looking - but also his depiction of their clothing and armour. To me they are the usual cross between the mediaeval and Norse mythology that we see in a lot of Tolkien artists and he hasn't yet found a unique 'Middle-earth' vision there. But it doesn't lessen the grandeur of his paintings. After all, this is Tolkien and in Tolkien the landscape of Middle-earth is one of the main protagonists. I've included the picture below of
Turin transfixed by the eye of Glaurung outside Nargothrond
as another
Silmarillion
example as I think this is one of his better figurative paintings and I like the baleful look of the dragon and Turin standing like a statue with his sword raised as though condemned to salute the prisoners: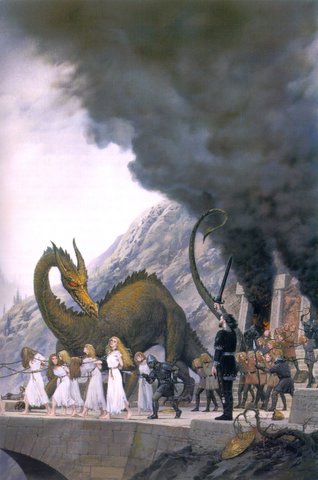 Turin transfixed by Glaurung outside Nargothrond
© Ted Nasmith
Ted has his own website where you will find high res versions of all his Tolkien work to enjoy and much more besides:
tednaismith.com
© Ted Naismith
And don't forget the useful
Rolozo Tolkien Gallery
which is one of the best resources for Tolkien illustrations. You can also see most of his paintings here and that of many other artists by searching on 'isolate artists' from the menu on the left. You can also search by subject.
Here's one final Nasmith picture to finish up with – just because I like his beautiful and graceful depiction of the treehouse where Luthien was held: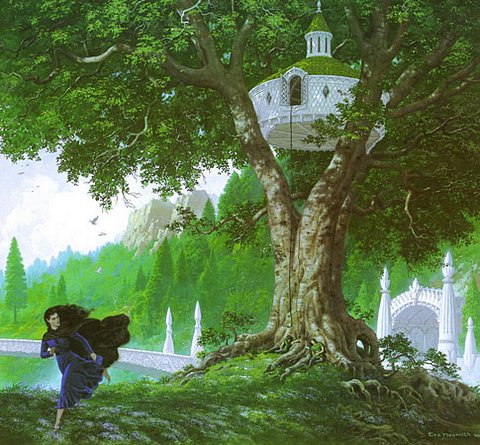 Luthien escapes the Treehouse
© Ted Nasmith