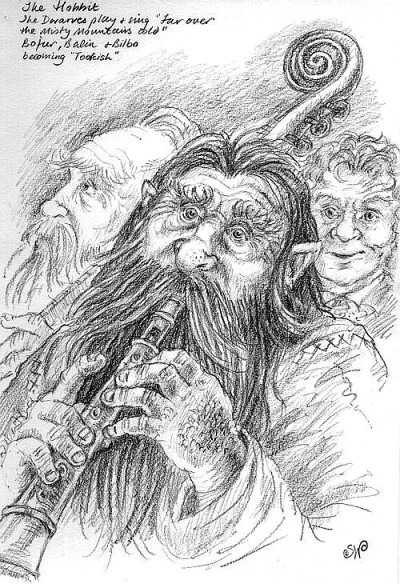 Bofur, Balin and Bilbo at Bag End
© Iolanthe
The Hobbit
In a hole in the ground there lived a hobbit.
I could tell you that in 1929 at the age of 37, Tolkien started telling stories of Bilbo to his four children. That he completed
The Hobbit
seven years later and it was published in 1937. This book however, was not the first endeavor to write down the stories of Middle-earth. It all started in 1916 written in a notebook entitled "
The Book of Lost Tales
" which later became
The Silmarillion
. However, you probably already know this information.
What you don't know is as I read this book for the first time to my children (at seven years of age) they hung on every word. Bilbo was small but courageous. The dwarves were colorful, brave and silly. Gandalf was the guardian of them all. The trolls were large and scary. Beorn was wild and mysterious. Smaug was a worm to fear. And most of all, magic was real. Anything could be true; talking birds, elves, giant spiders all were real because they were all right there in one book.
Later, my daughter started to make connections with the images in my Tolkien desk calendar. The goblins were truly ugly and Gollum could be seen as evil or sad.
In the spirit of young children, here is a place we can discuss the going and coming back again of Bilbo Baggins. Of his adventures with dwarves, wizards, great eagles and one mean dragon. As always, please remember the
House Rules
. And lastly some words of advice from the Professor.
"It does not do to leave a live dragon out of your calculations, if you live near him."