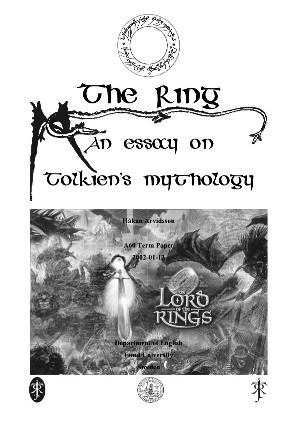 The Ring
An Essay on Tolkien's Mythology
A Thesis by Per Håkan Arvidsson
Back in June of 2006, we posted the first part of a two part thesis written by Per Håkan Arvidsson, and published by the Tolkien Society entitled "Aragorn: Tales of the Heir of Isildur. Part 1 - The Evolution of the Man".

We are delighted that Per Håkan Arvidsson has found us here at Middle-earth Journeys and joined our membership here. We are hoping that his busy schedule allows time for him to post his thoughts on our comments on our June feature.

However...we are absolutely thrilled to present Per Håkan Arvidsson's earlier thesis work in its entirety, published here at Middle-earth Journeys with his permission, entitled The Ring.

This work by Arvidsson deals "with Tolkien's use of the ring as a symbol", and treats this subject with sections on...


Tolkien himself

Forging of Rings

The Alchemist

Language of Rings

The Ring Quest

The Volsunga Saga

Of Elves & Men

Tom Bombadil

The One Ring

Conclusion

Bibliography


Arvidsson presented this thesis to the Department of English at Lund University in Sweden. I think you will find this work both informative and fascinating , and I am eager to discuss it with all of you here.


Because of the size, we have uploaded the paper for you in a

pdf/zip

file.

PLEASE DO NOT HOTLINK.

Left click and save to your computer.






The Ring, by Per Håkan Arvidsson




Thoughts?
© Per Håkan Arvidsson: Used by Permission