Fog On The Barrow-Downs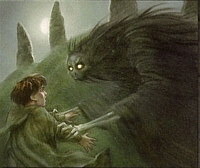 © John Howe
The Hobbits are now on their way again but their journey is not without peril. Being forwarned by Tom Bombadil and stories from the Shire they set off with trepidation. It is not easy crossing the Barrow-downs but when the fog sets in and the companions are lost they are trapped by one of the greedy
Barrow-wights.
Cold be hand and heart and bone,
and cold be sleep under stone:
never more to wake on stony bed,
never, till the Sun fails and the Moon is dead,
and still on gold here let them lie,
till the dark lord lifts his hand
over dead sea and withered land.
House Rules