The Lord of the Rings - 50th Anniversary Edition: Notes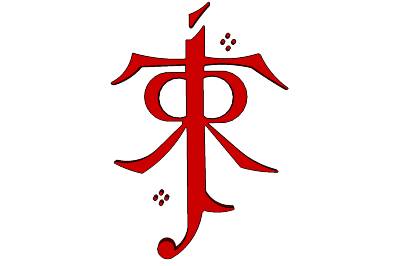 Early last week I was shopping for a couple of books for my great-niece at Barnes and Noble and I started to look at the '
nook
' and ended up purchasing one. I am finding that I like the easy lightweight option rather than carrying around something enormous like
LOTR
. Anyway ... I made sure that the Tolkien basics were available on the
nook
before purchasing it. The version of
LOTR
that is available is the
50th Anniversary Edition
. I had purchased the actual book when it came out in 2004. It is still sitting in my bookcase in pristine condition ... a beautiful volume.
I had never gotten around to reading the two lead in pieces (
Notes
); the first,
NOTE ON THE TEXT
, by Douglas Anderson and the second,
NOTE ON THE 50th ANNIVERSARY EDITION
, by Hammond and Scull. Perhaps it is only a true Tolkien geek who can say this, but they are both eye opening and fascinating reads.
Anderson writes primarily about the history of the editing of the original texts - a daunting task considering the (dare I say) disorganized and unorthodox way it was written over such a long period of time. Hammond and Scull attempt to explain and restore Tolkien's original wording to the
50th Anniversary Edition
from those previously edited editions and they document the problems they discovered.
Starting with the original British printing in 1954, there was (as one could imagine) much correction to be done even after the editors had finished. Tolkien wanted things changed ... editors got words and punctuation wrong ... and so on. There were British and American publishers out there getting things wrong on this ENORMOUS books and Tolkien (and others) were continually trying to update (as Tolkien re-thought some things) and correct them.
Then there was the small American publisher, Ace Books, who published an 'unauthorized and non-royalty paying edition' in 1965 ... and ... did their own unauthorized editing!
Tolkien tried for years to make his own editing corrections for all these editions and publishers and by 1966 was worn out by it and giving up. Then he died in 1973 and in 1974 Christopher Tolkien took up the torch and after as much grief as I have personally given CT, I will now admit that the Tolkien world owes him an enormous debt of gratitude and I can understand ... after all of his eye opening work on his father's writings and legacy ... why he guards these works so closely.
One of the most fascinating things mentioned in these 'notes' is the fact that Tolkien often wrote passages in light pencil and then would go over them ... and make changes ... in ink, and it was only through CT's work that he deciphered the changes that his father was making to his story. This he did this by painstakingly resurrecting the pencil version from underneath. Wow!! All of this additional information is what compelled the fastidious CT to publish the 8 volumes of
The History of Middle-earth
.
I felt the 'notes' and the 50th Anniversary Edition itself might prompt some in depth conversation.
Thoughts?