The Great River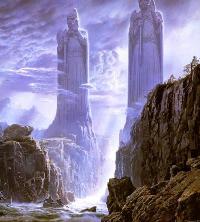 The Argonath
© Ted Nasmith
After the long sojourn in Lothlorien the Fellowship is finally on the move again and they are not alone as it's clear that Gollum, with all his talents as a waterman, is still following them. Even worse, a terrifying winged creature has flown over them and the journey down the river is proving far more difficult than anyone thought.

The Fellowship is stricken with indecision and the way is no longer clear, even to Aragorn who is now leading them. But as they approach the Argonath, the great Pillars of the Kings, we get a glimpse of the returning King of Gondor in Strider even as he wrestles with the difficult choices before them.

This is another short chapter but one that tells us that the journey is going to be a very different one from this point onwards!