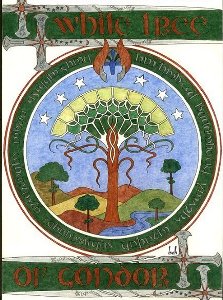 Becky Carter-Hitchin
The Lord of the Rings Chapter by Chapter
There are those of us who have read
The Lord of the Rings
too many times to count. There are those of us who have only gotten through it once or twice. There are some of us who have been reading it almost since it was first published in 1954, and some of us who have only discovered it in the past few years. For all of us…what a glorious read it is! What friends we make as we walk the roads and paths of Middle-earth!
A year or two ago I discovered a box of books in my basement that contained my very first copy, a paperback edition, of
The Lord of the Rings
. The pages were turned yellow with time. Peanut butter and jelly dotted several chapters. There were also pages stained with the tears of a young girl who worried about her friends in Middle-earth, and whose heart was stolen forever by it's heroes.
We thought it might be fun, entertaining, and educational for us to discuss this incomparable tale together…chapter by chapter. We will be in no hurry, and we will only move on to a new chapter when we are collectively all talked out about the current one. As always, our Middle-earth Journeys
House Rules
apply to this discussion.
So come with me. I hear that there is a special party being planned at Bag End and we are all invited. I'll meet you there.